Planning to go experimental this summer, these frozen treats are worth a shot if you guys love ice creams. Various flavours of ice creams you couldn't imagine would be paired together or even such flavours which you thought couldn't be converted into ice cream. Here is a list you would totally drool over. After all, ice creams are the worldwide comfort food.
Top 20 Ice Creams Flavours You Must Try This Summer
1. Pumpkin Spice Ice Cream
Halloween zeal or the Autumn whether blame whatever you want to grab a bite of this delicious Pumpkin Spice ice cream. Pumpkin is a seasonal fruit; enjoy while fall lasts and don't miss out on an opportunity to have a taste of this wonder. The ingredients include pumpkin spices, cooked pumpkin puree [depends on the chef] and other usually used ingredients to make ice cream.
2. Black Garlic Ice Cream [chocolate]
Unlike the regular garlic, which inherits a sharp garlic flavor, here black garlic is used, which comparatively has a sweeter flavor. All those garlic lovers out there, this is the best treat you could give yourself. Adding chocolate to it makes it a perfect blend when these two flavors are combined.
3. Vanilla Bean Cardamom Strawberry Ice Cream
Vanilla Bean Cardamom Strawberry Ice cream is a great example of a heavenly combination of flavors as the name suggests: vanilla beans, strawberry, and cardamom. The unique flavor of cardamom that is usually a combination of minty, spicy, yet citrusy when combined with comforting flavors such as strawberry and vanilla turns out to a delicacy for a common individual who's here for an adventure.
4. Ghost Pepper Ice Cream
Ghost Pepper infused with the soothing creamy might be the next fearless to do things on your list. It's not as comforting as it sounds many people who have tried this flavor have given reviews such as it induces labor, panic attacks, and people even paint. This is an exquisite combination of ice cream flavor to be tried at your own risk. As exciting as it sounds, it sure is worth a shot. Wholesomely made out of ghost pepper.
5. Green Tea Matcha Oil Ice Cream
This is quite an example of a cheat frozen treat when on a diet. Green Tea Matcha flavors do have various health benefits. However, converting into an edible frozen treat won't be actually be considered as harming your diet completely. Consider this ice cream treat as pay off for all those long hours you worked out.
6. Purple Sweet Potato Ice Cream
Potatoes and ice cream! Seriously who would've actually thought that this would've been possible? Keeping in mind, the health benefits of purple sweet potatoes combined with ice cream is equal to a healthy frozen treat. It is one of the many vegan gluten-free ice creams available in the market.
7. Brown Bread Ice Cream
With every scoop, you'll experience crunchy caramelized bread crumbs. It's 100% Vegan.
8. Honey Chamomile Ice Cream
These are two bold ingredients when infused together might give you some relief, maybe calm your body and soul. The two ingredients are well known for their health benefits imagine when infused together and turned into a unique mellow ice cream flavor. Chamomile and honey are well balanced in this equation.
9. Turmeric Ginger Ice Cream
This definitely sounds like a healthy tropical dessert, and by the looks of it, it definitely gives summer tropical vibes. Not to mention turmeric's rich color contribution as well as it's anti-inflammatory properties. Ginger is pungent and has a taste that is similar spicy with a slightly woody flavor. They balance each other quite perfectly.
10. Fresh Basil And Mint Chocolate Ice Cream
Mint chocolate is indeed has a soft corner for everyone. However, when basil is added and churned, a divine combination is created. Basil does include minty properties as well as is sweet yet savory. The use of mint and basil combined does give us a subtle taste with every scoop.
11. Cardamom With Spiced Candied Pistachio Ice Cream
This is a dessert combined with unique flavors such as cardamom, pistachio, churned into making a unique ice cream flavor. Cardamom giving a twist of spiciness along with minty yet citrus while pistachios are sweet. These two combined results in sweet and salty/spicy flavor.
12. Avocado Ice Cream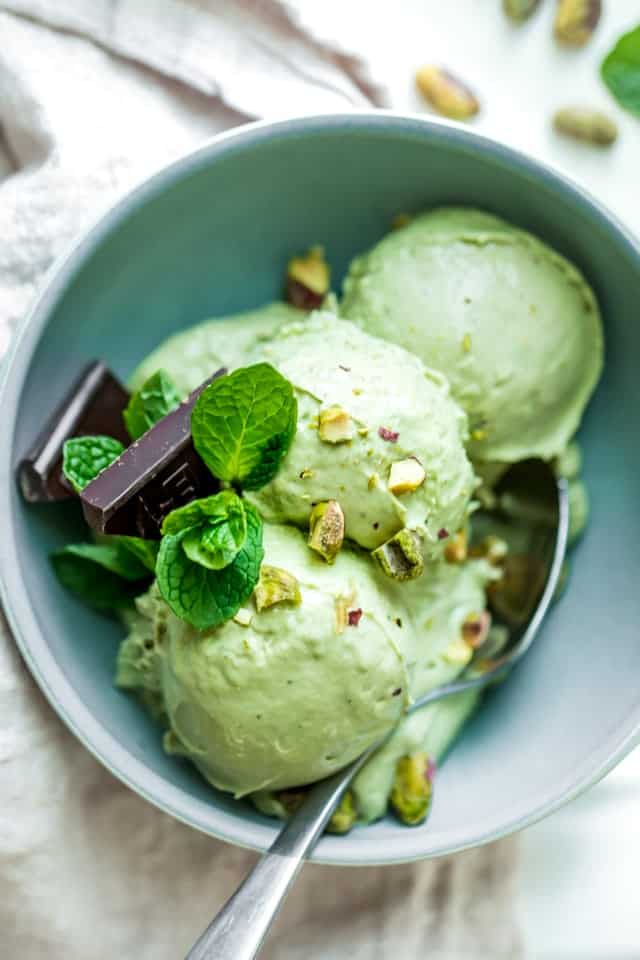 The creaminess and the smoothness of this rich avocado ice cream will lead a direct doorway to heaven. It's a perfect summer frozen treat. It also comes in a combination of other flavors as well such as mint chocolate chip, dark chocolate, and lemon zest, etc.
13. Taro And Black Sesame Ice Cream
These two flavors separately are at it's best, but imagine when combined together what wonders will it create. They sure are two different scoops, but when tried together gives an all together with an undefined taste.
14. Salted Peanut Butter And Jelly Ice Cream
Salted Peanut Butter along with irresistible jelly; it's a good ingredient focus ice cream that is sweet and salty at the very same time. Fruitiness in the jelly perfectly balances the salty peanuts making it even more irresistible. Chopped peanuts on top with drops of Jelly, Perfect.
15. Bacon Ice Cream
Bacon Ice Cream! A sweet combination of sweet maple along with the candid flavor of bacon with every scoop is uniquely refinding. It surely has a crunchy sweet salty wholesome flavor for a great summer frozen treat. It does sound unusual, however, the taste might change your thoughts.
16. Lemon Poppy Seed Ice Cream
This is a perfect conversion of Lemon poppy seed muffin into ice cream, taste remains the same. Zesty lemon taste along with a slightly nutty flavor brought along by the poppy seeds.
17. Cucumber Ice Cream
These different flavors of ice creams combined together to give a refreshing taste altogether. The coolness and the freshness of cucumber along with wasabi, which has a specific herbal, yet not spicy taste. All of these flavors of ice creams combine to give a natural essence to the ice cream.
18. Salted Caramel Ice Cream
Isn't it well balanced when salty and sweetness are proportionate to each other, producing a divine flavor altogether? Caramel is a popular sweet infused flavor, however, when added the right amount creates a rich yet light flavor.
19. Salted Pretzel Ice Cream
All-time favorite snack, when combined with a comfort frozen treat, is all you could ask for when in the for a cold crunchy frozen treat. With every scoop you would have a lifetime experience for a flavorsome salted pretzel along with the cold creamy texture, which will definitely melt in your mouth!
20. Sweet Corn And Black Pepper Ice Cream
Sweet corn is infused of a buttery sweetish flavor while black pepper has a woody sharp taste which is hot, this relishing combination. Sweet corn under the dessert section is not very often you might get to see. This is worth a scoop. Sweet corn and pepper blended together along with the creaminess of ice cream. Call it a cold snack.
Subscribe to our channels on YouTube & Telegram