Indian street food is as diverse and colourful as our culture and rituals. Whether it's an office break or chilling time during tuition, no matter what age group, we Indians just can't resist the urge of digging into these not-so-healthy, yet so-scrumptious roadside delights.. Whether sweet or salty, Street Food in India offers it all. The narrow gullies of Old Delhi narrate many stories through the overwhelming variety of street food that they offer. They'll inspire you to pull out your cameras, explore new ways, and sometimes, even get into the kitchen and recreate. The temptation is everywhere and it's hard to resist.
21 Best Street Foods In Delhi one Must Try
1. Chhola Kulcha
Chhole kulche is one of the popular street food of North India, especially in Delhi and Amritsar. You might see many street vendors selling Chhole Kulche on roads or even outside schools and colleges. Trust me, only Delhi can provide you with the best Chhole Kulche. The extra love and less soda put to make fluffy Kulcha make it the best street food in Delhi. The Chhole is on top of the pile. For those who love their spice, this is as good as it gets.
Best Places To Try Chhola Kulcha are Lotan Kulche Wala, Barshabulla Chowk, Chawri Bazaar, Chache Di Hatti, Kamla Nagar, New Delhi
2. Golgappe
How can someone miss Dilli ke GolGappe!!! Known as Golgappa in Northern India, Panipuri in southern and Central India, Pani ke Bataashe in the west and Puchka in the east, this crunchy ball of goodness is known to every chaat lover in the country. And Delhi being the food capital of India is a true gourmet's calling, chaat is Delhi's speciality.
Best Places to Have Golgappe are Ashok Chaat Bhandar, Chandni Chowk, Lala Babu Chaat Bhandar, Chandni Chowk
3. Jalebi
How can one ignore the unique shaped sugary sweetness of Jalebi in Delhi? With a large number of shops offering different varieties of Jalebi, this dish has become the perfect sweet dish. You can go for Doodh Jalebi, Kesar Jalebi etc. I don't know about you but Jalebi can always enhance my mood.
The best places to have Yummy Jalebis are Chandni Chowk, Pandara Road

4. Dahi Bhalla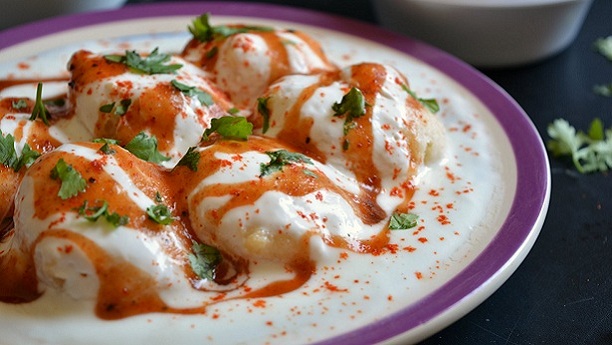 Dahi Bhalla, The sweet curd and mix of sweet red and tangy green Chutney on top of soaked Dal Vada. The most famous is Natraj Dahi Bhalla, They make some of the best plates of Dahi Bhalla in all of Delhi. They've been around since 1940!
Best Places To Try Dahi Bhalla are Natraj Dahi Bhalla in Chandni Chowk, Atul Chaat Bhandar in Rajouri Market
5. Daulat Ki Chaat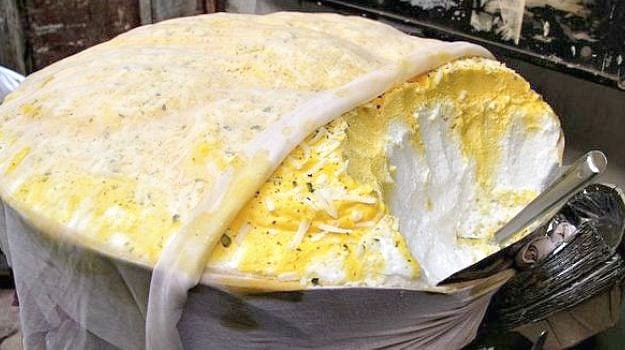 Indeed it's called a chaat, though it has nothing to do with the street food that we associate with the word. It's not tart, nor salted, doesn't have green or red chutneys or any chillies. It is a sweet dish – and the most sublime sweet in the world, in my opinion.
The Best Places to have Daulat Ki Chaat are Babu Ram, Sitaram Nagar, Delhi Khemchand Adesh Kumar, Kinari Bazaar, Delhi.

6. Parathe
The street provides more than 50 varieties of paranthas and an assortment of Indian curries, kebab and sweet dishes. The Parantha served here are strictly vegetarian and are stuffed with fillings like chillies, lemons, cashew nuts, almonds, green peas, khoya, rabri (sweet dish), ladyfingers, carrot, cauliflower, radishes, potatoes etc. The street is always crowded due to the enchanting aroma of food & is situated in Chandini Chowk, the heart of Old Delhi is a famous gourmet destination.
The Best Place to have Paratha is Parathe Wali Gali

7. Kulfi Falooda
The joy of gorging on rose-flavored falooda lying on a bed of chilled and creamy Kulfi on a super-sunny day is above all. This one Indian dessert is sure to keep you hooked for long, as it is not only pleasing to the palate but to the eyes as well.
The Best Places to Have Kulfi falooda are Roshan Di Kulfi, Ajmal Khan Road, Karol Bagh, Giani's di Hatti, Fatehpuri, Chandni Chowk.

8. Aloo Chaat
For this very basic, very delicious chaat, boiled potatoes(aloo) are cubed, fried, and spiced up, then served hot with toothpicks. These hunks of frying potato on large, flat tawas manned by chaat walas are a common sight on Delhi's streets.
Best Places to Have Aloo Chaat are Bishan Swaroop Chaat Bhandar, Chandni Chowk, Vaishno Chaat Bhandar, Kamla Nagar, Delhi

9. Ram Ladoo
Small Balls stuffed with potato or lentils, The crispiness of radish and tanginess of chutney with these fried dollops make for every foodie's fancy. Crunchy on the top and soft inside, these are served with a garnish of tangy green chutney and grated radish.
The best places to have Ram Ladoo are Tilak Nagar, Janakpuri.
10. Kebabs
With over 25 different varieties of Kebabs ruling the Delhi street foods, this dish will give you the best reminder of the Mughal era. It includes Kakori Kebab, Shami Kebab, Galouti Kebab and much more. All of these kebabs are full of flavours and spices that remind you of the Nawabs.
The Best Places to Have Kebabs are Chawla's at Tilak Nagar, Al Kakori at Vasant Place Market.
Read also – 10 Must Try Famous Desserts Of Jabalpur
11. Poori Aloo
If you are in Delhi and haven't tried this heavenly dish then you are missing out on something big. Each vendor tries its own recipe which allows the patrons to get different tastes.
Best Places to Have Poori Aloo are Chandni Chowk, Karol Bagh.

12. Moth Kachori
A spicy and tasty moth beans curry topped with crispy broken kachori and chopped onions and tomatoes. This is a filling and delicious street food
The Best places to have Moth Kachori are Janpath, CP, Karol Bagh.
13. Chhole Bhature
Fluffy bhaturas are served with spicy chole laced with delicious gravy. When out in the city, you could spot numerous roadside stalls frying out piping hot bhaturas straight out of sizzling oil. Many diets are broken with just the thought of this deep-fried ball of wonder.
The best places to have Chhole Bhature are Sitaram Diwanchand, Chache Di Hatti.
14. Kulfi
Dessert lovers will love this sweet-savory Dessert. The crushed dry fruits and thick texture of milk together make a super tasty mix. The Kesar flavored kulfi is the most famous among all flavors. There are a variety of flavors available, such as Paan, Malai, Chocolate etc.
The best places to have Kulfi are Roshan Di Kulfi, Giani's Hatti, Pandara Road.
15. Kachori Sabji
A crispy kachori lined with a slightly spicy masala dipped in a tangy aloo sabzi can make any day better. The potato curry is spicy, plus they throw in some chopped, spice coated green chillies for good measure. Nonetheless, it's difficult to stop at one, runny nose and teary eyes together.
The best places to have Kachori Sabji are Kamla Nagar, Lajpat Nagar, Pitampura.
16. Shawarma
The Delhi version of Shawarmas will keep you on your toes no matter where you try them. Every Vendor in Delhi has his own special ingredient to make this tasty goodness all the more delish. Some vendors have veg shawarmas and some have nonveg but there are some which have both veg and nonveg.
The best place to have Shawarma is Karol Bagh.
17. Samosa Chaat
This little triangular piece of food is probably what keeps Delhi hearts beating. A samosa prepared with chhole and a tangy taste of chutneys is the best thing anyone can ask for. Though it is fried, it is worth every calorie.
The best places to have Samosa Chaat are Rajouri Garden, Karol Bagh.

18. Butter Chicken
The name alone is enough to make a person drool. This dish is considered to be the staple food for non-vegetarian Delhiites & has many die-hard fans around the world as well. The state, which is considered to be its creator, is none other than the Capital itself. So, if you are having difficulty finding a place to treat yourself to an awesomely tasting Butter Chicken, no place can be better than the food capital, Delhi.
The best place to have Butter chicken is literally Everywhere in Delhi!

19. Raj Kachori
A thin and very crispy-fried puri like a hollow shell. Stuffed with oiled channa and crisp namkeen, this is an authentic food to give a try for sure. The various chutneys and yogurt coat the whole affair, making it a perfect mix of wet and crunchy, sweet and tangy, spicy and cooling. This amazingly tasty dish is every Indian's favourite.
The best place to have Raj Kachori is Rajouri Market.
20. Momos
Momos have always been a favourite among young, old middle-aged, vegetarian or non-vegetarian people. These tasty dumplings have found their way into becoming a popular food item in Delhi. Almost every area in Delhi flaunts its local go-to momo stall. Stalls serving hot, steamy momos with red chilli garlic sauce, mayonnaise and oregano can be found in almost every street in Delhi.
The best places to have Momos are GTB Nagar, Lajpat Nagar.

21. Biryani
Just perfectly cooked long-grain rice and tender pieces of ghee-mutton. The Biryani is cooked using age-old Mughlai cooking method and the Biryani is so delicious that you won't ask for raita or chutney.
Mild on the spice meter, tender chicken chunks and Dilli
The best places to have biryani are Tipu Sultan Biryani, Al Jawahar, Mota Pehelwaan.

Now that you have the list of the best street food in Delhi, when are you planning to take a day off to explore these streets and try this amazing food?
Read also – 15 Brazilian Street Foods You'll Fall In Love With
Subscribe to our channels on YouTube & Telegram