Japan is very creative with its food. From traditional to modern, street style to authentic preparations Japanese dishes, are prepared in all types and flavors. Japan developed unique desserts that were based on ingredients such as rice and sweet beans.
In Japan, the culinary experience is not just about food, but also about the presentation, color element, and sheer beauty of eating. Japanese desserts are an amalgamation of all these elements which reflect on the plate and would leave you pleased with the flavors.
13 Most Relished Japanese Desserts To Try
1. Japanese Cheesecake
It is a jiggly, fluffy soft cheesecake that originated nearly 70 years ago in Japan. Japanese cheesecake is a perfect accompaniment for tea and coffee. Its ultra-soft and jiggly texture makes it one of the most liked desserts in Japan. This dessert sure is a must-have.
2. Mochi
Mochi is the name for chewy Japanese rice cakes traditionally made of sticky rice known as mochigome. This is a common ingredient for many Japanese dishes, desserts and confections but also a dessert on its own and can be relished by toasting the rice cake and sweetening it.
3. Daifuku
The most cherished Japanese dessert is Daifuku. Sweet red beans are stuffed in mochi cakes and the outcome is Daifuku. This is considered to be an auspicious dessert that is enjoyed by one and all. It should be on your must-have list.
4. Anko
Anko renders a Japanese traditional flavour that has been consumed in Japan for centuries. It is a sweet bean jam comprising of Azuki beans. Anko is a common topping and filling for various desserts and can be savoured on its own.
5. Dango
Dango is chewy Japanese rice dumplings usually served on skewers. They are prepared in many varieties and are consumed on different occasions. This dish can be found in Japanese cafes and food stalls. It is best complemented with green tea and turns out to be a must-try Japanese dessert.
6. Dorayaki
Dorayaki is a sweet pancake sandwich filled with Anko paste. It is a fondly loved Japanese confection. This Japanese dessert is relished by one and all, including kids and elderly people. When exploring this beautiful country, grabbing a Dorayaki is a must.
7. Anmitsu
This one is a classic Japanese dessert that is a composition of colours, flavours and everything sweet. Anmitsu has varied ingredients including fruits, anko, agar jelly cubes, mocha and ice cream. This vibrant and refreshing dessert is served in various restaurants and cafes.
8. Japanese Pudding
This non-baked dessert is famously known as Purin in Japan. It has a creamy, silky, and rich texture. Purin renders light and smooth flavors which add to the dish. This is a jiggly custard-like dessert that makes the dish everyone's favorite.
9. Mochi Ice Cream
Mochi ice cream is the most amazing amalgamation of mochi dough and tempting ice cream. Small ice-cream balls are wrapped in mocha dough, resulting in drool-worthy Mochi ice cream. This variant of ice cream is enjoyed around the globe by everyone.
10. Sakuramochi
Sakuramochi is a dessert that consists of mochi flavored with cherry blossoms. This dish is pink in color and is obtained from cherry blossom flowers. They are filled with red bean paste and pickled Sakura leaf is wrapped around the ball. This dessert is prepared for marking the arrival of spring in Japan. It is a must-try dish during a Japanese tour.
11. Coffee Jelly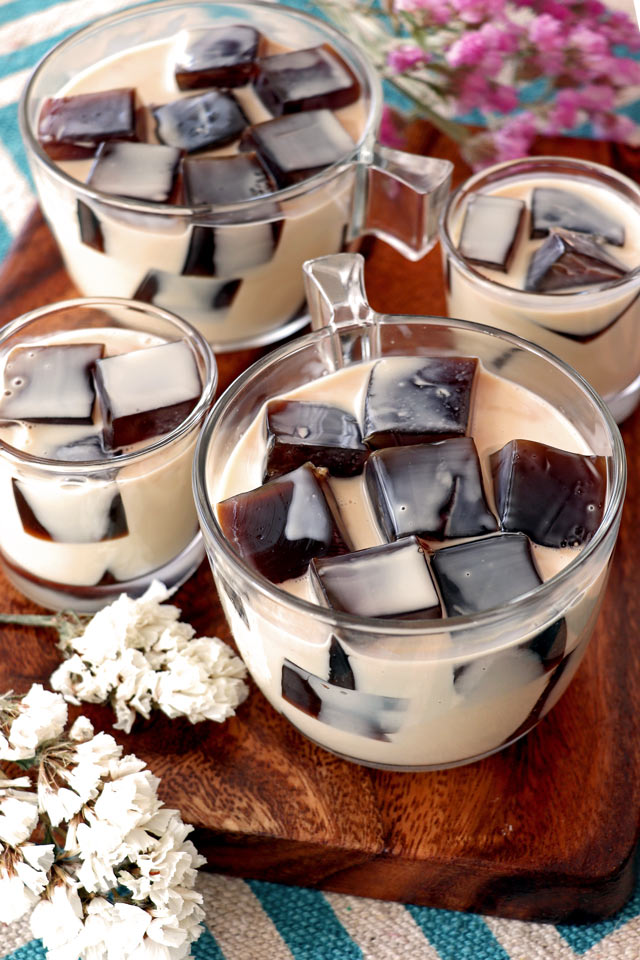 Coffee jelly is a cold jellied dessert that is an amalgamation of coffee and sugar. It is a very common Japanese dessert that is found in almost every restaurant and convenience store. Coffee flavored jelly cubes are served in thick sweetened cream and the dish is relished by everyone.
12. Yokan
Yokan is another popular Japanese jelly based dessert. This dish is made using red bean paste. When the temperature gets hot and humid in Japan this refreshing jelly based dish is prepared and consumed across the country.
13. Imagawayaki
Imagawayaki is a snack that is being relished for generations now. It is a traditional Japanese dessert stuffed with red bean filling inside a thick round cake. This dish is commonly eaten at Japanese festivals.
Subscribe to our channels on YouTube & Telegram