Kolhapur, a city in the south of Maharashtra in India, is famous for its history, temples, sandals as well as cuisine. So much is it's a contribution in food and drink local to the place, that ingredients used in the local food are lent the name "Kolhapuri", like- Kolhapuri Lavangi (chillies), Kolhapuri jaggery and Kolhapuri masala (mixture of spices). Dishes of this town are given the false tag of being hot and spicy. But instead, the local food is known to simply use a variety of spices in the Kolhapuri masala, and the food is only mildly spicy. Have a look at what's in store in this city:
10 Local Dishes From Kolhapur you Must Try out
1. Pandhara Rassa
Pandhara Rassa, meaning white curry, is a speciality of Kolhapuris. This dish has a soup-like consistency and contains coconut milk and mutton stock as the main ingredients. Spices like cinnamon, black and white pepper, cardamom and ginger-garlic paste are added for taste. This is a no-red-chilly dish, served as starters.
2. Tambda Rassa
Tambda Rassa, or red soup, is also a starter made of mutton. This dish uses less of coconut and more of red chillies and Kolhapur masala. Tomatoes, onions are also a part along with other ingredients. Unlike pandhara rassa, this dish is high in spice and hot on the taste buds.
3. Kolhapuri Misal Pav
Misal Pav is one of the most famous breakfast dishes, local to Kolhapur. This spicy and filling dish is basically boiled moth beans and farsan topped with a spicy, thin curry called kaat and is served with pav (bread). The kaat consists of tomatoes, coconut and onions in a paste form, ginger-garlic paste and kolhapuri masala.
4. Kolhapuri Bhel
Bhel is a pungent and mild-spicy evening time snack famous all over India. It is made of puffed rice, farsan, chopped tomatoes and onions, and chutneys. What's special about Kolhapuri Bhel is that it has a spicy green chutney, crunchy masala dal and the topping of the spicy kolhapuri masala. This dish is a sure delight for foodies who relish spicy and tangy food!
5. Kat Vada
Kat Vada is another traditional kolhapuri recipe, served as a snack. The base of this dish is batata vada, which is mashed potato balls fried with a besan paste (gram flour paste) coating. The vadas are cut into half and topped with hot and spicy kaat/tarri. The dish is garnished with coriander, chopped onion and sev.
6. Kolhapuri Muttonache Lonche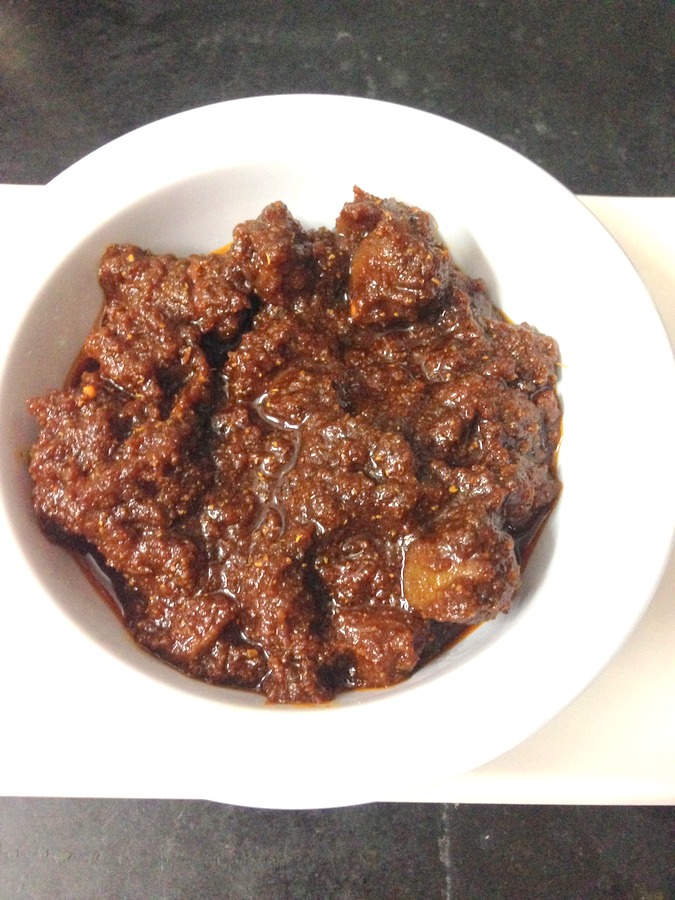 Muttonache Lonche or Mutton Pickle is a spicy side dish found in every non-vegetarian Kolhapuri platter. The pickle has marinated and cooked mutton pieces, later on fried with spices, kolhapuri masala and vinegar. It tastes amazing with bhakri (traditional bread).
7. Goli Pulao
Kolhapur is very famous for its mutton dishes, and goli pulao ranks in the list too. This dish has goli/kheema balls made of mutton kheema and it is cooked along with rice. The pulao is made spicy with kolhapuri masala and is served famously as a lip-smacking one-pot meal.
8. Bharli Vangi
Bharli Vangi or stuffed eggplants is a popular preparation in Maharashtra for festivals and weddings. In the large state, every region has a variation in the method of preparing the stuffing, while the gravy of onion, coconut and garlic remains the same. In Kolhapur, the eggplants are stuffed with a paste of jaggery, tamarind, kanda-lasun masala (onion-garlic) and special goda masala. Every Maharashtrian platter is incomplete without this dish of stuffed and spicy baby eggplants.
9. Zunka Bhakri
Zunka, also known as Pithla, is a traditional Maharashtrian dish, made of besan or gram flour cooked to a semi-solid consistency. The dish is spiced up with onions, garlic, chilies and other assorted spices. It is served with Bhakri or flat bread made of bajra (pearl millet) flour.
10. Kolhapuri Thecha:
Unlike the green chilly thecha famous in the entire state of Maharashtra, the Kolhapuri thecha takes the spice factor to a different high. This spicy chutney/sauce is made of the spiciest Kolhapuri red chillies and peanuts, flavoured with garlic, mustard, and asafoetida. It goes along very well with bhakri (flatbread), rotis and even dosas.
Subscribe to our channels on YouTube & Telegram